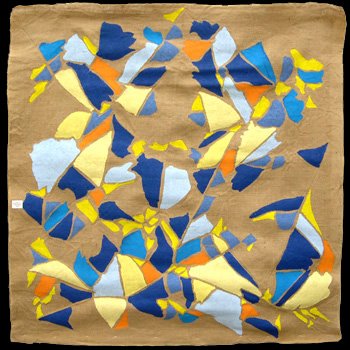 Jute N°25
Acrylique sur toile de jute froissée.
Dimenssions:115cm x 115cm



- 200€ -

Painters
Yvon Patonnier
I was born on March 30, 1946 at CREST small cited Drômoise.Autodidacte, you will understand when reading these words, the merits of my thoughts and especially my emotions.
True Passion, Painting since 1993 is an inexhaustible source for me. The discovery of Music and Informatics, has been a logical and legitimate in this Passion.
The burlap,
It is by chance that in 2000 I discovered the canvas of Jute. This substance me immediately fascinated by its power and smell particular, can be also because it comes from the earth and has participated in many working men, that of the humble like genius.
Ruffled, its folds and its m'hypnotisent frame, and then gradually I discover silhouettes, shapes, which are emerging. I began to ask colour, Colour My… as if musical notes flowed from these forms, where the painting would have provided its own orchestration. I fixed my colors worn on these imaginary. The result is surprising every time. Imagine a partition that could be read from left to right and from bottom to top… and vice versa. A Web has limits its edges… and its dimensions are displayed… instinctively!
I am also using this medium stretched on a frame.