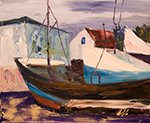 Tug Boat
Tug-boat in Cherbourg.

oil on canvas, 38cm x 46cm.

Painters
Denis Webb
Artist painter Denis Webb who was born in San Francisco and lives in France showcases his personally modified impressionism in oil, watercolor, and pastel. In his painting the chief motivating factors are color and light which reveal a world of mystery and possibility.